Mitel Cloud Services Changes and Price Increases Coming Soon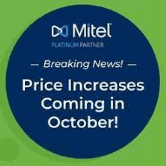 In response to global market pricing pressures and industry shifts, effective October 1, 2022, Mitel will increase prices by 25% on cloud services upon your contract renewal date. Adjustments in pricing will apply to Profiles, Services such as Fax and Call Recording, and Hardware Rentals such as phones, routers, and switches. Pricing on CAPEX purchases, usage charges, regulatory feed, premium partner support, and network/circuits will remain the same. Please note that the increased price will be reflected in the invoice customers receive for services in the month they renew, which in some cases may be the month before renewal.
Also, industry carriers have shifted away from Time Division Multiplexing (TDM) technology due to the cost of maintaining the required infrastructure. Over time, this has negatively affected the customer experience. As a result, Mitel will end its support of TDM circuits in the US on December 31, 2022. After this date, Mitel will no longer provide or support these circuits delivered with a T-1/DS-1, NxT-1/DS-1, DS-3, and OC-3 last mile. 
If your organization currently relies on these circuits for voice traffic, Mitel is encouraging you to migrate to RingCentral MVP as part of this transition. If you're a Mitel customer relying on TDM Circuits, you may have already been contacted by the company or you soon will be. There may be advantages available to you depending on your transition choices and timing. 
Packet Fusion can help you understand how these changes will affect your organization to determine and take your next steps.Book a meeting with us now to get started.